Nirma Bath Soap ::...
Toilet soap market in India was dominated by a very few MNCs which could monopolistically price their product. In 1992, sensing a strong need to expand the market through Penetrative Pricing, Nirma entered this market with the launch of 'Nirma Bath Soap', which is a carbolic (Red) soap. Although the carbolic soap segment is on decline, Nirma Bath has generated larger volumes each year. Packed in a red colour wrapper and available in 75 gram and 150 gram pack sizes, this soap has a Total Fatty Matter (TFM) of 60 %.
Nirma Beauty Soap ::...
With its market promise to offer "Better Products, Better Value, Better Living," Nirma introduced 'Nirma Beauty Soap' in the year 1992. Available in three different variants and pack sizes, this soap has a TFM content of 70%. Due to its admirable perfume and a higher TFM content, this brand, within a short span of five years, had achieved the status of the third largest selling toilet soap brand and still continues its outstanding performance.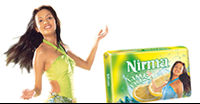 Nirma Lime Fresh Soap ::...
This product had created a sensational marketing history in the Indian Toilet soaps market, when it was launched in 1997. Seventeen million packs of Nirma Lime Fresh soap were sold in the very first month of its soft launch. Packed in a poly coated 75 gm carton, which is printed on the world's best Cerruti 8-colour printing machine, this soap is available in green colour. With a lime aroma that tingles in one's sensory buds for a long time, this soap contains 80% TFM. The product launch of Nirma Lime Fresh had been extremely successful, being ranked as the Seventh Most Successful Brand Launch for the year 1998, as ranked by the Business Standard Marketing Derby, 1998. (as featured in The Strategist Quarterly, July-September 1998).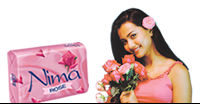 Nima Rose ::...
Nima Bartan Bar also addresses the emerging market of scouring bars. It is being offered in 200g and 400g pack sizes. From initial launch days, it has got huge market success and consistently performing well.
The remarkable and phenomenal market response received by Nima Rose soap within just two months of its launch once again proved the merits of Nirma's commitment towards its consumers. Nima Rose soap has got an exceptionally soft rose fragrance – which remains around body for a long time even after bath. The high TFM content of this product allows a consumer to have pleasant bath. This brand had carved a niche in its segment by achieving leadership position just within two months of its launch. It is available in 100g and 150g pack sizes.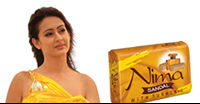 Nima Sandal ::...
Over the period, Indian toilet soap market has fragmented & has seen emergence of prominent floral fragrance segments as Sandal, Rose, Jasmine, etc. Nima Sandal is a one of such product in floral segment. This toilet soap has 80% TFM content, with rich & exotic fragrance. It promises benefits of Sandal oil & Turmeric powder. It is a premium product from Nima stable and is available in 100g and 150g packs.